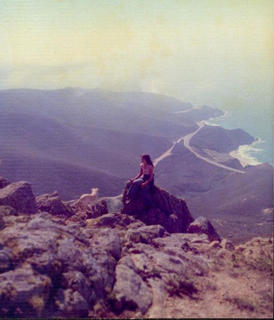 (Above, me, and beloved dog, Scorpio, at the top of Montara Mountain, looking south toward Montara and Moss Beach. 1970s. What a view!)
At the moment I'm at home on the Coastside enjoying the fog…(earlier today I had to drive on an errand to Mtn View and at 10 am it was broiling; I don't like heat.
I told you I grew up in the Sunset District where it was never sunny and I grew up to love and need fog. Actually I like all kinds of weather but I favor fog because its so emotional, kind of depressing. Most people, the vast, vast majority, love blue and yellow all the time, I like variety.
The nice young clerk at Kibbles and Clips in Half Moon Bay told me when I said it had been sunny too long and I wanted fog, "Spoken like a true Coastsider". She didn't know how well I knew fog. I like it best when I can't see the house across the street.
I first started visiting the Coastside while going to San Jose State. I was also living in San Jose, even during the sweltering hot summers when most students headed for the cooler nights at Lake Tahoe.
The new friends I made at San Jose State came from the Menlo Park-Atherton area and they knew and loved the redwoods of La Honda and the lonely, foggy Coastside beaches. That's how I got to know both, through them.
One good friend, John, my future ex-husband, worked at Memorial Park during the summer, cleaning bathrooms, etc. Occasionally we camped out at the park, walked the scented trails, listened to the trickling creeks and swam in the "swimming hole". David Cline was the gorgeous lifeguard over several seasons, a contemporary of mine, who bought a quaint summer house off isolated Tunitas Creek Road, had some sort of business relationship with Neil Young and later became a very successful Coastside realtor.
Around the time David was a lifegaurd or shortly thereafter– when the street outside our Coastside house was a pot-holed dirt road, not paved as it is today– a big bus pulled up in front. It was dark outside, there were no street lights then. I'm talking about a big bus, not the boss-man's bus, but the kind that takes the rock star's crew on tour. Tonight it was empty except for David who was at the wheel. He was laughing when the bus door opened with a "whoosh" and he stepped out.
Looking back, it was a little moment but at the time it felt very big.